Paramount Sales is wholly owned  by Pat Costello and Gabriel Duignan, both founding partners of the company in 2001.  Pat and Gabriel are two experienced horsemen driven to reach new heights for Paramount Sales.  Liz Moloney joined Paramount in 2002 & became partner in 2007.  With a steady ascent up the leading consignor list, Paramount Sales sold the world record breaking. With a steady ascent up the leading consignors list, Paramount Sales sold the world record breaking weanling filly (Gone West – Islington filly) for $2.6M in 2006, sold several sale topping individuals in diverse venues, sold numerous yearlings for well over a million dollars, and topped most sale consignor lists annually.
Pat Costello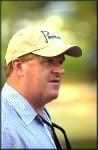 Pat Costello was born in 1959 on his family farm in County Kilkenny, Ireland. He moved to Lexington in the early 80's where he managed and developed Crescent Hill Farm for six years. From there, he started his own farm, Drumkenny Farm, which was a full service boarding operation maintaining the bloodstock of such leading owners as top Canadian breeder Sam Son Farm. Pat and Gabriel first combined forces with a very successful pinhooking partnership called "The Lads" realizing a profit for 10 straight years.
Gabriel Duignan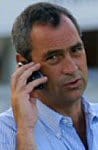 Gabriel Duignan also born in Ireland, came to the United States in 1985 as a student working for Circle O Farm. Gabriel was promoted to Circle O's Farm Manager within a year. In 1992 Gabriel managed Ironwood Farm in Bowling Green, Kentucky turning the farm into a profitable venture. In 2001, Gabriel left Ironwood to become President of Castleton-Lyons where he rebuilt and refurbished the farm to its current showplace state. He also developed a very successful stallion roster at Castleton-Lyons including leading sire Malibu Moon. In 2003, Gabriel started his own full service farm called Foxtale Farm.